Prospective Students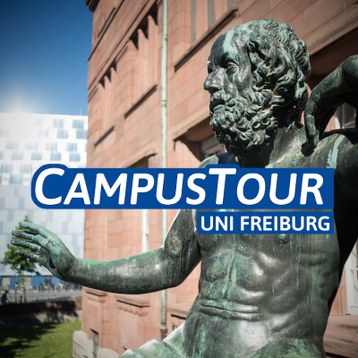 Get to know our campus! Make a virtual visit to the University of Freiburg with our Campus Tour With videos, pictures, sound clips and small quizzes we will guide you around the campus and introduce you to different places and people of the university everyday life. Especially in times of pandemics you will get an insight into the otherwise pulsating campus life.
Open House
Each year in November, the University of Freiburg holds an Open House and invites school students to take part in a "regular workday" at our university. Various informational events, advising sessions, and guided tours give the students a first impression of what it feels like to study at the University of Freiburg and how it works.

This year's Open House for school students will be held in November.
Informational Event: From School to the University
What can I study in Freiburg? What's the right way to apply?

The Central Academic Advising Office and the Registration Office hold informational events during the registration period for everyone who is considering the possibility of pursuing a degree at the University of Freiburg.

The academic advisors begin with a presentation introducing the degree programs offered at the University of Freiburg and then go on to explain how the application process works. Afterwards, the advisors are available to answer questions.


The next dates will soon be announced her.
Scholarship Advising
Please visit the Scholarship Advising page
University for School Students
In cooperation with the Freiburg Seminar, we offer the University for School Students for gifted school students from Freiburg and the region. The program enables school students to take courses and earn credits at the University of Freiburg during their last year of school. The participants are excused from school for a certain amount of hours to take the courses. The credits they earn count toward a degree in the appropriate field of study if they matriculate at the university after graduation. The following fields participate in the University for School Students Program:
Computer Science, Microsystems Engineering
Biology, Chemistry, Physics
Classical Philology, Catholic Theology
Scandinavian Studies, English Studies, Romance Studies, Sinology
Mathematics
Law
Students must be recommended by their school and go through a selection procedure.
Please contact the Freiburg Seminar for more information.
If you have any further questions, please contact Dr. Friedrich Arndt.
Trial Course of Study
The Central Academic Advising Office of the University of Freiburg has organized annual trial courses of study in natural sciences and engineering for school students with great success for the past ten years.
The program gives school students an exciting introduction to the fields of study Chemistry, Earth Sciences, Computer Science/Embedded Systems Engineering, Mathematics, Microsystems Engineering/Embedded Systems Engineering, and Physics. To arouse their interest and give them the opportunity to experience daily life at the university in these fields, we organize a diverse program including lectures, workshops, and laboratory courses for interested school students each year in April.

The trial course of study is usually held during Easter break.
BEST Seminars (BErufs- und STudienwahl) (Career and Academic Orientation)
What is BEST?
Which fields of study and which professions are best for me? How can I orient myself in the face of the enormous range of degree programs and find pertinent information about them? How can I make a good decision?

These are the questions dealt with in the BEST Seminars offered by the Central Academic Advising Office in cooperation with local secondary schools.
The two-day orientation und decision-making workshops give you the chance to think hard about your individual abilities, interests, and goals together with other prospective students and to find the best fields of study and professions for you.

What can I expect?
You learn about your most important interests, abilities, and goals in individual and group work,
we help you find suitable fields of study and professions,
we show you how to research your options and find the most pertinent information on degree programs and professions,
how to get your bearings in the "jungle of online information,"
and how to make a good decision.

How can I sign up?
Target groups: school students approaching graduation at local schools, persons completing a voluntary year of service (e.g., voluntary social, ecological, or cultural year), and students dissatisfied with their studies who are considering a change of fields and looking for a new perspective
Number of participants:18-22
Costs: 10 € service charge
Dates, registration, and more information: www.bw-best.de [de]
If you have any further questions, please contact the BEST trainers at the Freiburg Central Academic Advising Office Ute Benninghofen
Online Study-Choice Assistants (OSA)
Our online study-choice assistants (OSA) familiarize prospective students with fields of study offered in Freiburg. With self-tests, numerous video interviews and sample problems, photo galleries, and personal accounts, they give potential applicants an idea of whether a field of study actually fits their interests and inclinations.
Individual Advising
Open Office Hours Mo, Tue, Thu: 9 a.m. to 12 noon & Tue, Thur, 2 to 4 p.m.
Who should take advantage of them?
The open office hours are our "quick" advising format for issues of all kinds, especially urgent cases. There is no need to make an appointment. Please note that you might have to wait until one of our advisors is available.

When?
Monday, Tuesday, and Thursday from 9 a.m. to 12 noon
Tuesday, Thursday from 2 to 4 p.m.
Please sign in at the information desk when you arrive at the Student Service Center!

If necessary, you may arrange an appointment for one or more follow-up sessions during your open advising session.

All advising sessions are confidential.
Advising by Appointment
Who should take advantage of it?
We recommend arranging an appointment for less urgent matters that feel particularly "serious" or seem particularly difficult and complex. It is also wise to arrange an appointment if you will be traveling a long distance to obtain information about studying at the University of Freiburg.

How?
To arrange an advising appointment, please call our telephone hotline at +49 (0)761/203-4246
or fill out our online appointment request form [de]

Advising appointments are usually scheduled to last one hour. As a rule, appointments are arranged a maximum of three weeks in advance.

Depending on the topic of the advising session (e.g., orientation advising), our advisors might contact you beforehand to let you know how you can prepare for the session.

All advising sessions are confidential.
Frequently Asked Questions and Topics at Advising Sessions
Should I study or not?
How can I learn my way around the many informational materials and orientation tools?
How should I approach a field I am potentially interested in studying?
I want to study, but I haven't yet decided what field is right for me …
What can I study at the University of Freiburg? What fields can I combine and what degree do I earn then?
I can't decide between different degree programs …
How is the degree program structured?
What are the prerequisites for enrolling in a degree program?
I have several plans. How can I combine them with one another?
What kinds of scholarships can I apply for?
Where can I find you and how can I reach you?
The Central Academic Advising Office is located at the Student Service Center, Sedanstraße 6 (roughly a three-minute walk from Freiburg's main train station):

Service Center Studium -
Zentrale Studienberatung (ZSB)
der Universität Freiburg
Sedanstraße 6
79098 Freiburg

Student Service Center info hotline: Phone: +49 (0)761 203 4246
Monday to Thursday: 9 a.m. to 4:30 p.m., Friday: 9 a.m. to 12 noon
studienberatung@service.uni-freiburg.de
The Central Academic Advising Office also recommends the following external academic orientation services
was-studiere-ich.de
The orientation test was-studiere-ich.de [de] gives prospective students who don't yet have a concrete idea of what they want to study recommendations concerning degree programs in Baden-Württemberg that match their interest profile.
Hochschulkompass (Higher Education Compass)
The Hochschulkompass provides a convenient means of conducting a nationwide search of relevant degree programs. The variable search engine helps prospective students to find appropriate degree programs at all German universities quickly and reliably. Users can find even more precise results by filling out the integrated study interest test (SIT).