Additional program for international students (APIS)
Are you an international non-EU student at the University of Freiburg who wants to enrich your student life in Freiburg and benefit from free additional offers? Then you have come to the right place!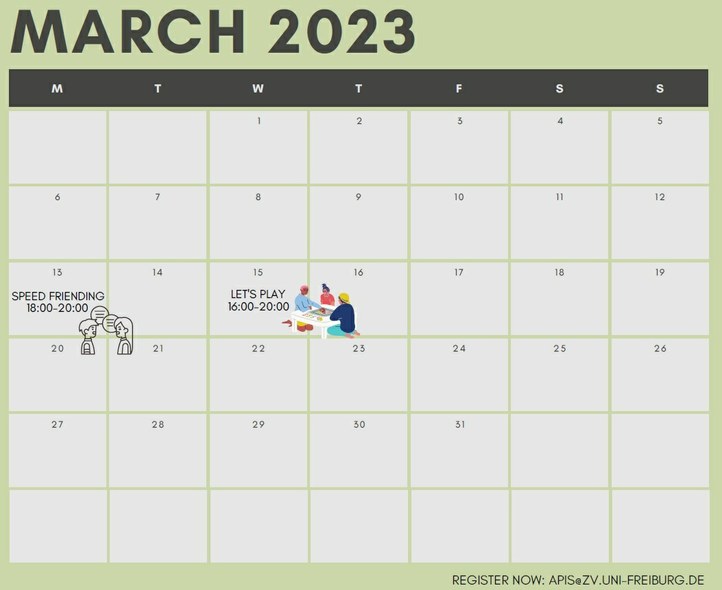 Starting your studies off the right foot
We want your start into your studies at the University of Freiburg to be as smoothly and successfully as possible, so take a look at the free offers we have to benefit you:
Intercultural Mentoring: Register as a mentee
Become a mentee and receive subject-specific and personal support from experienced mentors from all faculties.
Learn more 
Workshop: Successful Start of Studies
By studying at the University of Freiburg, you will not only get to know a new city in a different country, but also a new university system with new teaching, learning and relationship cultures. Find out everything that is important for your studies in Freiburg!
Detailed information
Studying can be very challenging - we are here for you!
We want you to successfully master the study phase of your life and to support you in developing your personal skills from the transition from university to work. The following services are available to you free of charge.
Intercultural Mentoring: Register as a mentor
Get involved as a mentor and strengthen your social, communicative and intercultural skills by accompanying new international students at the beginning of their studies with your own experiences.
Learn more
Workshop: Application Training for Career Entry
Are your studies coming to an end and you're now looking for a job? In this workshop, you will be taught how to apply successfully for a job, as well as learn how to find the right job for you.
Detailed information
Workshop: I believe in myself
Studying at the University of Freiburg and living in Germany bring new challenges. We want you to successfully master these challenges and gain self-confidence in order to study with more joy and motivation.
Detailed information
Workshop: I dare to speak German
You have already attended several German courses, reached at least level B1, but it is still a big challenge for you to speak German? Gain confidence and dare to speak German. We show you how it works!
Detailed information
Workshop: Stay on track - Core competences for your studies
Studying can be very challenging. Your studies have been made particularly difficult in the last two years due to the Corona-related restrictions. We at the IAS would like to support you in staying on track and give you tips on where to find help and support on various topics. We will also introduce you to 2 basic and helpful tools for successful studying: Time/self-management and academic work. Finally, you will have the opportunity to meet, exchange and network in person.
Detailed information
Newbie or old hand at the university? Easily meet nice people from all over the world!
We give you the chance to talk to other students and exchange ideas about cultures, languages and your own experiences. That way you can find common interests and learn from each other.
International Stammtisch
The International Stammtisch takes place 1-2 times a month. We have prepared exciting topics and games so that it will be easy for you to get to know each other. We speak English - you are welcome to exchange ideas in German or other languages. Let's spend great evenings together! Best of all: We invite you and pay for the first drink!
Social Events
Look forward to exciting events and joint activities! Whether sports, culture or creativity - there is something for everyone. Participation in all events is free of charge. Register now: apis@service.uni-freiburg.de
Since the costs for tickets and materials are covered, your registration is binding.
Do you want to feel more comfortable in your (German-speaking) environment and to communicate better?
Learn a new language or improve your language skills! Learning languages is fun and connects you with other people, and you learn a lot about the traditions, lifestyles and ways of thinking of other countries. In addition, multilingualism offers better career opportunities.
Language courses
Choose from our range of semester-long language courses or attend our German intensive course during the semester break. The language courses we offer are conducted by the Language Teaching Institute (SLI) of the University of Freiburg. Participation in the language courses is free of charge for you. You can only register for these courses if you are re-registered for the upcoming semester or enrolled.